Are there business models and pricing options that will catalyze greater adoption of renewable energy solutions?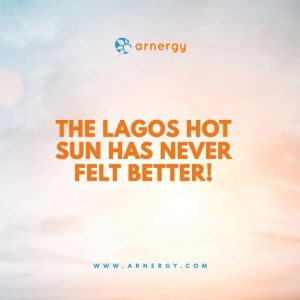 Mrs. Chizoba* could not wait another ten minutes at home as she hurried out into the prevailing Lagos traffic to get to her store. Like her and many entrepreneurs around Lagos, getting sweltered by the sun in one of Africa's most vibrant cities was just another day in the life.
Today, she had a major problem to deal with.
Mrs. Chizoba had taken a fresh delivery of fish the week before and stocked them in her refrigerator the next day. For the few days following, she ventured out of town to visit her aged mother in Umuahia. Unsurprisingly, her store and its environs had not enjoyed any type of electricity supply since the day she locked the refrigerator and hoped that her one month of inventory will remain somewhat preserved till she returned from her trip.
The traffic on Ojota road was grueling as usual. The howling and yelling of commuters and street entrepreneurs held no immediate concern for her this particular afternoon as her mind was affixed on the large stock of fresh fish that slowly went bad in her refrigerator. An hour later, she dashed into her shop on Adewale Kuku Street, Kosofe, with hopes of salvaging whatever was left of the now decomposing fishes. Alas, no single mackerel was spared. Mrs. Chizoba clenched her teeth in pain and regret. She just lost over N100,000 Naira in merchandise and revenue due to the unavailability of reliable power supply.
This story is fictitious. However, many Nigerian businesses can relate with it as the reality contained in it is not far from what millions of Nigerian small businesses experience every day. There are endless stories of frustration around energy reliability for SMEs in Nigeria, including business crippling issues that range from damaged goods, lost earnings, wasted productive hours, and general customer dissatisfaction.
Solar Solutions in Nigeria — Dispelling the Myths
Can Solar work in Nigeria in a reliable and affordable way?
There are a number of myths around the efficacy and efficiency of solar technologies as a means of reliable power. These myths are not limited to Nigeria alone but have a greater impact in countries like Nigeria where the direct alternatives do not seem to provide a basic level of reliability.
" Around the world, renewable electricity generation by solar and wind is increasing at exponential rates, with shares approaching 50% or more in some countries. New ways to manage energy generation, transmission, distribution, and storage are being established, as well as how to best manage the integration of new renewable electricity with traditional, centralized energy sources, such as coal, gas and nuclear power plants.

Yet, commonly claimed short comings regarding renewable energy and especially their successful integration in to the grid often make it hard when discussing the urgent need for an energy transformation based on the renewables.

— International Solar Energy Society "
Are solar energy systems sustainable? Are they affordable? Are they reliable? Can consumers like Mrs. Chizoba depend on solar energy to run their business operations successfully in Nigeria? Who are the renewable energy providers that will power Nigeria's future?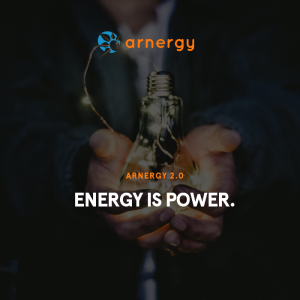 Hello sunshine, Hello Arnergy!
From Kano to Lagos, Calabar to Ekiti, Nigeria's geographic coordinates sit between 4°N and 14°N latitude and longitude between 3˚E and 15˚W. The country receives a vast supply of solar energy all year round. This energy represents the primary resource for the ingenuity and development of Arnergy's solar energy systems.
As an innovative company, Arnergy's technology roadmap began with catalyzing the sun. In Nigeria and across similar geographically positioned markets, that is not too difficult to fathom. But for entrepreneurs like Chizoba and other small business owners across the country, it is not very obvious that the radiation of the sun, uncomfortable at its peak, could serve as a source of affordable, scalable and sustainable energy that can effectively power their business and lifestyles.
Arnergy's Mission — Catalyzing adoption
Arnergy's mission is to provide energy for productive use to Nigerians like Chizoba at their homes and businesses by deploying products, services and systems that power their daily operations and markedly improve their overall economic outcomes.
We empower SMEs in Nigeria through the design, sale and installation of affordable and reliable, distributed energy systems. We are aggressively aiming to catalyze renewable energy adoption across target economic verticals including, but not limited to, healthcare, education, hospitality, agribusiness and micro businesses.
Arnergy's engagement process involves assessment, standardization and delivery of our unique, affordable and reliable renewable energy solutions.
We leverage local intelligence to optimize resource requirements to ensure that customers like Chizoba are satisfied – and can live their daily lives rest assured that their inventory, resources and facilities have the required electricity to function.
Business models that works
Arnergy provides energy solutions. In addition, we build capacity to deliver high quality solutions with superior customer care services and timely after sales technical support. For an indigenous technology company in Nigeria, these key attributes offer us a compelling competitive advantage within the industry. Across the country, we offer all our business and residential clients a new experience of affordable and reliable energy for productive use within their local markets. Over 9 Million Nigerian small businesses fall within our addressable market, and we are eager to dispel the myths around solar for every customer that we serve.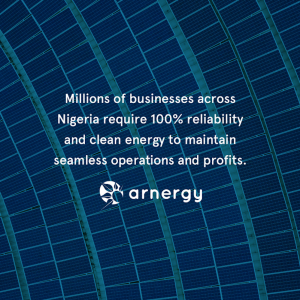 Proudly Nigerian — Real and Affordable Solutions
We design, develop and deploy market-ready technologies that are scalable,user friendly, and localized and allow our customers to remotely manage their energy assets.
Our pricing models are flexible and our product packages have been designed to account for the sensitivities and aspirations of our target business and residential clients. We have a three-pronged payment model that caters to the varied needs of entrepreneurs like Chizoba as well as millions of SMEs across the country.
For individuals and SMEs that can afford a one-off purchase of their systems, the Outright Sale (OS) option is a preferred model. We cater to our price sensitive clients through our Lease to Own (LO) model, a customer finance model where customers can own their solar energy assets after making timely installment payments over 36 months. For many SMEs in the country, our most popular model is our flagship Energy-as-a-Service (ES) financial model.
Renewable Energy Subscription — A ready made solution for Nigeria
Arnergy is a homegrown Nigerian company and we are well equipped with sufficient information around local nuances and market dynamics. Our subscription-based energy service model allows qualified businesses and entrepreneurs like Chizoba to pay a fixed monthly fee over a 10- year renewable service contract.
For the duration of the subscription agreement, Arnergy is responsible for maintaining and managing the solar power systems at no cost to the client, thus providing reliable, sustainable and affordable energy solutions that give our clients peace of mind and allow them to operate their businesses productively. To date, we have powered over 2,000 client sites with reliable and affordable energy.
Arnergy's vision is to provide sustainable solutions to energy reliability issues across emerging markets, starting with Nigeria. Our planned impact for clients like Chizoba and millions of others across Nigeria includes:
— Making SMEs to run profitably with flexible payment for energy services. — Improving business and economic outcomes by emphasizing reliable energy for productive use and reducing OPEX costs that threaten the sustainability of our target business clusters.
— Reducing carbon emissions and pollution in the regions we serve.
— Improving quality of life metrics for our clients by providing cleaner air and reducing health hazards.
— Perfecting our role as a distributed utility by reducing pressure on the national grid and allowing local grid activity to serve industrial zones and public good thus stimulating economic growth.
— Creating jobs in the renewable energy sector and across the businesses that we serve.
— Reducing energy poverty from the bottom to the top of the pyramid.
Find out more
Our pricing options are available on request. Find out more about our product lines, capacity requirements, tips on energy efficiency and best practices for sustainable energy management by contacting us directly on our website or via any of our social media channels.
About Arnergy
Arnergy Solar Limited is a distributed utility that offers fully customized solar solutions across emerging markets. Our vision is to provide sustainable solutions to energy reliability issues across emerging markets. Arnergy's work is guided by a set of core values that include, passion, environmentalism, reliability, dependability, innovation, efficiency and motivation.
Contact us via telephone on +234 8022888840 and +234 8022888841